From the bench: The tack hammer's story
Michael Cullen's appreciation for tools and the stories behind them are one of his mother's enduring legacies.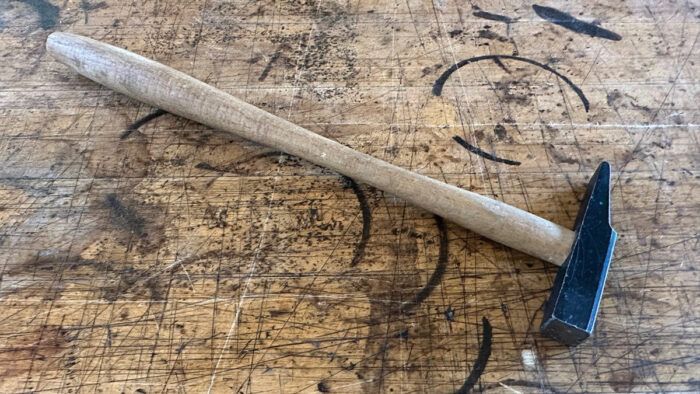 Synopsis: Michael Cullen's appreciation for tools and the stories behind them are one of his mother's enduring legacies.
---
My mom kept a hammer in a kitchen drawer.
It was a smallish thing for tacks and brads with a head that was square on one end and wedge-shaped on the other. It was neatly tucked into a compartment that would have housed such things as spatulas, stirring spoons, and tongs. It remained in that drawer for 50 years and only came out on rare occasions for a tap or two before carefully being placed in the exact spot it was before.
When it came to being a perfectionist and minimalist there's no doubt that my mom set the precedent. Everything she owned had a purpose and was kept in tiptop shape. When I once rehandled a carbon steel paring knife for her, she simply set it aside because the balance and the grip were now different and unfamiliar. To anyone else it would have gone unnoticed, but she was an expert with a knife and immediately sensed the difference. As a youth she completed a four-year apprenticeship in a butcher shop in Germany, and her sharpening and knife skills were legendary.
Most important, everything she owned came with a story. She once turned to me and said—"All my belongings have meaning." Oddly enough, she never mentioned a word about the tack hammer. To me, it simply lived in that drawer—an image that is still deeply burned into my memory.
Over the years, she took notice of my developing skills as a furniture maker, first during my rigorous apprenticeship at Leeds Design Workshop under the tutelage of English furniture maker David Powell in Massachusetts, and then later when I returned to California to set up my own workshop. Her keen eye caught every detail in my pieces and she never missed an opportunity to point out how well the hinges were set and how all the screws were aligned.
One day not long before her death we were talking about her belongings and what to do with them. At one point in the discussion, she turned and opened the kitchen drawer and took out that small hammer and began telling me how it came into her possession.
When she was 21, she came to America from Germany with my dad to start a new life. She was leaving her family and the only home she knew. It was at the airport, right there on the tarmac when everyone was tearing up and saying their goodbyes that her father, a master of all machine trades, stepped forward holding a small hammer for her to keep safe and take on the journey.
These are his words: "This hammer symbolizes that if you take the time to learn how to do something, you will be useful, and you will always survive. Take this with you and keep it in clear view." I now keep the hammer safe in a drawer of my tool chest as a reminder of those words of wisdom.
A while back I was in Petaluma, Calif., where I lived and had a workshop out in the country. One day I was walking along the store fronts down Kentucky street in town and noticed a sign in the window: "Help Wanted—Woodworker." I immediately thought of that hammer my mom kept in the drawer. I stood there for a moment and then said to myself—I can do that. I can make things! I will survive.
—Michael Cullen is finding just the right place for all his tools as he sets up his new shop in an old hilltop barn in Kent, Conn.
Photo: Michael Cullen.