Bottom feeding in the woodworking world, Part 2
Scraps of note: These big and beautiful offcuts can serve as a jumping-off point for very creative work.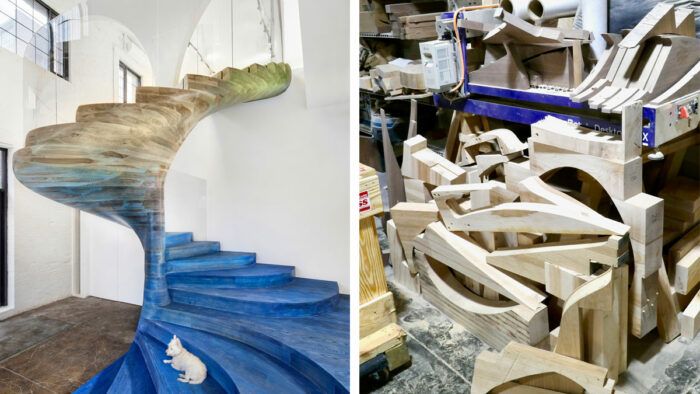 In my previous entry, I delved into the how-to of sourcing small scraps of wood (such as those found in firewood bins) and using them as building blocks for basic projects. I emphasized the contribution of working under constraints to our development as able makers and how these kinds of scraps can become catalysts for rewiring our creative brains to think out of the box. 
Acquiring scraps of note
Today I will explore a subcategory of woodworking from scraps that I call "scraps of note." A scrap of note is an unusually large scrap with a unique shape that deserves special attention. Some of the best scraps of note are cutoffs from CNC milling processes or are significant vestigial segments from bandsaw work. When I notice them, instead of thinking about how I can dissect them into smaller parts to be used as components in other projects, I actually think about how I can try my best to use them as is and expose and integrate their unique shapes in the new piece.
This brings us to my recent scrap-hunting expedition, which yielded the perfect ensemble of items to showcase scraps of note and their potential.
Last fall, my friend Kemal Lowenthal, a colleague in the dwindling order of school woodworking teachers, was approached by Ottra, a boutique furniture studio located in Brooklyn, N.Y., and asked if he would like to receive some of their leftover scraps. 
Meghan Arlen, the production forewoman, offered to give him solid pieces of walnut, oak, and other domestic hardwoods that the company mills for their projects. After returning from Brooklyn with plenty of wood that would fulfill his students' needs for quite some time, he told me about it and connected me to Meghan. I reached out to Ottra and asked if they could be my patron saint of scraps too.
When past meets present
A few weeks later, I hopped into my car and arrived at one of the most frozen-in-time yet exciting outskirts of the New York metro area. The studio, which is the brainchild of Sofia and Adam Zimmerman, is located in an old red brick pier warehouse building on what used to be the bustling Brooklyn harbor. Just to illustrate how forgotten this area of New York is, on the last half a mile of driving toward the pier ally, I drove on a street where the paving was an amalgamation of original 19th-century cobblestones punctuated by modern asphalt patches to fill in for the numerous pot-holes that plagued that road.
While the building, the roads, and the vista of Ms. Liberty in the distance have the flavor of a bygone era, the inside of the studio was all modern. 
The brightly lit interior has state-of-the-art equipment, including a wide jointer and planer, a panel table saw, shapers, a long bar clamp dock, and a vast CNC machine.
The company is known for making solid wood sculptural furniture projects. It has developed a technique to lower both the weight and the center of gravity of its furniture by strategically milling intentional voids in each segment before sandwiching them together.
Here, Meghan Arlen glues up the segments of a round solid oak table.
Unique scraps make for unique projects
The outcome of both the external shaping and the internal recesses milling creates some highly figurative scraps, a few of which I was able to take back with me.
My car was loaded with hardwood scraps, including some beautiful scraps of note.   
In addition to those artistic scraps, the initial lumber milling process and leftovers from the lamination glue-up yield plenty of scrap stock to reclaim and reuse. My students have already begun using some of the smaller scraps and are turning them into utensils and cutting boards.
However, the more unique pieces still await their moment in the sun. As I mentioned earlier, those formidable scraps which are more significant in volume and character deserve special attention if we intend to incorporate them into a new piece properly. To illustrate how I approached this design challenge, I prepared a few sketches demonstrating how these scraps can be integrated into new furniture. 
Follow me as I walk you through this design pathway. 
The cinder block 
These laminated walnut blocks with their distinct trapezoid voids reminded me of cinder blocks. They can be used as is or cut into subunits to provide many design opportunities. 
Cinder block shelves and table:
Cinder block shelves and stool:
Cinder-block coffee table with glass top:
Mesa
Used as trestle table leg base, figurative shelf support, or as part of a mirror frame, these Mesa-looking ash blocks have a lot of potential. 
Wings
These impressive wing-like, broad and long walnut scraps are some of the best scraps of note I have found.
Note that new design possibilities emerge by pivoting the wings at 90° or 180° or joining two wings edge to edge.
Like finding a needle in the haystack
Although scraps of note rank the highest on my ledger, finding them is tricky. Any woodworking business will be more open to donating to woodworking teachers, hobbyists, and organizers of not-for-profit woodworking activities. Although makers like to donate scraps, they always prefer to deal with seekers as a group rather than individuals. They also will favor giving to a group rather than being inundated with individuals who call and ask to come by. To start the search, you can contact local furniture manufacturers and ask around. But perhaps a better way is to contact those businesses on behalf of a woodworking club, so if you belong to the local woodworkers' association, club, or guild, I would advise you to rally the members and reach out together. 
Lastly, remember, the last thing a scrap benefactor would want is beggars who are choosers – so be grateful for whatever scraps you have been offered.